Congratulations on winning a FREE digital download of our popular
How to Calm your Fragile Mind Course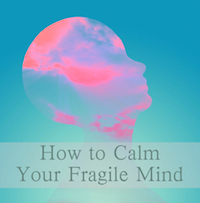 An in-depth exploration into caring for your mind with the following audio with Anxiety Slayers: Shann Vander Leek and Ananga Sivyer
How to Calm Your Fragile Mind
Shann and Ananga discuss the nature of the mind and how to begin taming negative thoughts and finding peace.
Points covered in this audio support program include:
How resisting negative thoughts causes further pain and how you can begin to release them
Ayurveda's guidance on the nature of the mind and how to begin to calm it
How to enter into a state of passive awareness where unwanted thoughts cause less pain
The power of taking your first step in taming your mind
Why your mind is like an unruly toddler and why getting firm and clear helps
Wisdom teachings on letting thoughts ripen and fade
PLUS First Steps in Mindful Awareness
Guided support on getting started with using mindful awareness to calm your unruly thoughts.
To download your course audio please right click in the links below
How to Calm Your Fragile Mind mp3
First steps in Mindful Awareness mp3
Note: Our files are hosted with Dropbox - you can download your course without having to create an account or sign in.